The latest Mayan literature, that is, artifacts, and can be traced back to at least 1300 years ago, reveals the human are not alone, advanced technology, including space travel may have existed for a long time. The Mexican government has released ancient documents proving the existence of aliens this time and again.
A growing number of reports say the Mexican government is ready to release evidence of extraterrestrial life and ancient space travel. Recently released Mayan artifacts appear to show spaceships and alien entities in the shape of frisbees, and will be shown in an upcoming documentary.
These artifacts can be traced back to 1300 years ago, if proved to be true, it will be very clear evidence, prove that we aren't the only intelligent beings in the universe, space travel has been around for over 1000 years.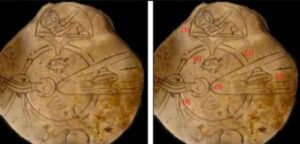 [1] the two circles near the center of the artifact appear to be the earth.
[2] it seems to be some kind of spacecraft.
[3] it appears to be a massive comet or asteroid headed toward earth.
[4] it appears to be a specially designed spacecraft capable of deflecting large comets or meteors, such as NASA's deep impact.
[5] he seems to be an astronaut who controls the spacecraft. [6] it seems to be an intelligent control spacecraft.